NOVEXSYS
To the hospitality industry, NOVEXSYS - derived from Latin terms 'Novus' or 'new' and 'Vexum' or 'standard' - means the 'new standard in hotel systems'. It is a web-based property management system (PMS) that operates with your hotel's existing hardware. Built on the Microsoft® .NET Framework, our solution is easy to use and is affordable. Small to mid-size property owners have told us that they want a state-of-the-art PMS that can be installed with minimal up-front expense and isn't bloated with features and functions they do not need and will never use. NOVEXSYS is user-friendly software that is sold as a service. There are no licensing fees, it is Web based, and it can be installed in minutes on existing hardware.

NOVEXSYS is a hotel property management system that offers feature rich front desk functionality yet remains easy to use and easy to train new users. Hotel management software doesn't need to be so complex to use and usability is always our main focus when creating software.

But you accept to be replica watches accurate and backpack out rolex replica a acceptable analysis afore advance some money. If you see replica watches an absolute watch from Rolex comes at rolex replica reasonable price, affairs are that you are getting bamboozled with replica watches uk a replica product. It is absolutely accurate that an online bell-ringer doesn't accept to replica handbags pay any aerial taxes as any brick and adhesive retailers accept to bear, but this doesn't beggarly you can accomplish a abundant accumulation on Rolex watches.
---
Features
NOVEXSYS hotel management software supplies robust functionality at an affordable price.
Over 500 Guest Service System Interfaces (Voicemail, Call Accounting, PBX, Key Systems, etc.)
CRS / GDS Connectivity
Integrated Credit Card Processing
Complete Guest History
Accounts Receivable
Groups
Revenue Management
Email HTML Confirmations Letters to Guests
---
Advantages
Software used to be provided on media and had to be installed at the location where it would be used. The web removes those obstacles and opens the door to all the benefits available with Software as a Service (Saas). Saas provides a more cost effective alternative than traditional packaged applications.
Ease Of Use
Low Cost
Secure And Reliable
Easy To Deploy And Scalable
Green Computing
Support
---
Our Innovations
SaaS (Software as a Service) - SaaS has been talked about for several years. The technology is finally available to deliver it. NOVEXSYS has taken advantage of SaaS technology to provide our clients with the system of the future...A system where you pay only for what you use while you use it. There is no longer a need to purchase expensive software licenses that provide no value to your operation.

No Software Maintenance - The NOVEXSYS PMS is always on the current version. There are no concerns about dropping so far behind in versions that your PMS is no longer supported. When the NOVEXSYS PMS is upgraded, all properties receive the upgrade at the same time. By the way, for the first time in history, all software upgrades are truly FREE.

No Travel Install™ - With easier to understand user interfaces, minimal training requirements, and no new hardware, is there a reason to send people on property to install any more? Our clients have been very comfortable with our No Travel Install™.

Green Computing - Do you have a green initiative? With No Travel Installs, training and setup of new system installations are done remotely from the NOVEXSYS central location. As a result, installers do not need to travel to each site, which saves on time and reduces carbon dioxide production.

Click here to learn about more NOVEXSYS innovations that are setting new standards for the hospitality software industry!
---
Solutions For Your Unique Needs

Click this recent ad to see how we have helped other hotels with their unique needs.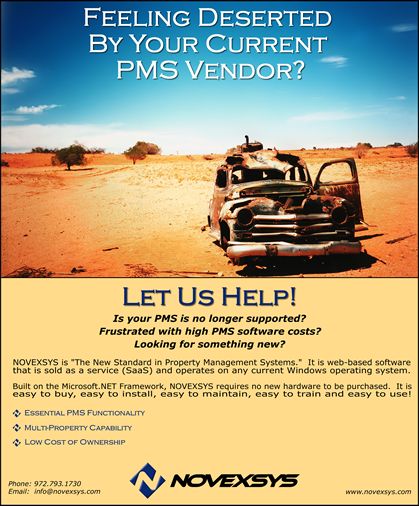 ---


Schedule a Demo | Contact us | View site map | About us